INTERAERIAL SOLUTIONS at INTERGEO 2022
-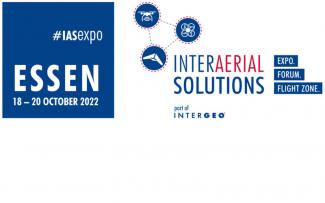 The international geo-community will meet in Essen from October 18 to 20, either on-site or digitally at INTERGEO 2022 - the leading expo and conference platform for geoinformation, geodata and forward-looking applications. INTERAERIAL SOLUTIONS will be held as part of this event, integrating the rapidly developing topic area around the use of drones into INTERGEO and optimally, complementing its content.
Best practices for the commercial use of drones will be presented to interested trade visitors in a dedicated exhibition area, a flight zone for live demonstrations in the outdoor area and on STAGE.
Solutions and innovations from future-oriented topics such as BIM, smart cities and drones will be presented on integrated platforms. They are part of INTERGEO, based on innovative technology, latest digital developments and show how geodata is applied in these key future fields.
Focus topics at INTERAERIAL SOLUTIONS are "Surveying", "UAV Laser Scanning", "Construction Site Monitoring and Construction Documentation", "Security" and "UAV Sensor Technology".
Norbertstraße (Eingang Messe West-Süd/Gruga)
45131 Essen
Contact person organizer
Anja Ungemach