Aerodata AG is pleased to announce a new MALE UAS for Maritime Surveillance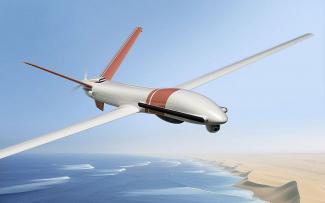 Building on the momentum of a recently signed Memorandum of Understanding (MoU) at this year's Paris Air Show, Aerodata AG, a distinguished German specialist in mission systems and special mission conversion, has deepened its collaboration with South Africa's Milkor. Together, they are set to introduce a MALE UAS tailored specifically for maritime surveillance, harnessing the capabilities of the Milkor 380 platform.
What sets this UAS apart is its impressive adaptability. In addition to its MALE capabilities with a service ceiling of 30,000 ft, it operates seamlessly in the LALE segment, effectively covering altitudes below 10,000 ft – an essential capability for typical maritime surveillance missions. Furthermore, the UAS boasts an outstanding endurance of up to 35 hours, ensuring extended mission coverage and increased operational efficiency.
With a Maximum Take-Off Weight of 1,300 kg and the capability to carry mission-specific payloads, this UAS has the potential to enhance the surveillance aircraft fleets of customers around the world. It's important to highlight that Aerodata's contribution encompasses state-of-the-art mission system technology, further augmented by maritime surveillance sensors from its subsidiary, Optimare Systems GmbH. This integrated approach from one source guarantees optimal performance and support.
Source: Press release Aerodata AG, 08.11.2023
Contact
Aerodata AG
mail@aerodata.de
+49 0531 2359 - 0
www.aerodata.de