U-Space Regulation: Interim results from the UDVeo research project published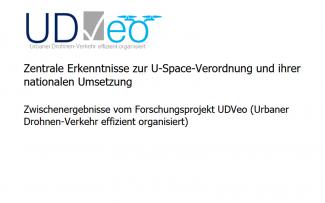 The interdisciplinary research project UDVeo at Helmut Schmidt University has published recommendations for action on traffic management for drones. The aim of UDVeo is to develop practical concepts and solutions for the integration of UAS into urban airspace. The starting point for the UDVeo research project is the European Commission's U-Space Regulation (VO (EU) 2021/664). The research project is funded by the German Federal Ministry of Digital Affairs and Transport. Project partners are the Ministry of Economics and Innovation of the Free Hanseatic City of Hamburg, consider it GmbH, the German Aerospace Center (DLR), HHLA Sky GmbH, Helmut Schmidt University, NXP Semiconductors Germany GmbH, Third Element Aviation GmbH and WPS Workplace Solutions GmbH.
Since free access to airspace is a valuable asset and is being used more and more due to the increasing use of unmanned aerial vehicles, drones in the European Union will receive their own traffic system in the future by regulation, which will supplement the known systems for air traffic control. In order to enable U-Spaces in Germany, European regulations must be converted into national law. The member states have a certain amount of leeway in this regard.
To ensure that drones can fly safely and efficiently in the future, the UDVeo project has developed technological and organizational recommendations for action on how to implement U-Space safely and successfully in Germany.
The publication "Key findings on the U-Space regulation and its national implementation" can be found here.
More about the UDVeo research project can be found here.
Kontakt
Sebastian Törsleff
Helmut-Schmidt-Universität
(040) 6541 3068
sebastian.toersleff@hsu-hh.de
www.hsu-hh.de