AERO Friedrichshafen 2022 – UAS Special Event (BOS)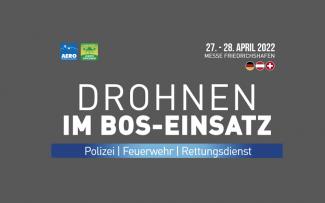 The dedicated AERO event "Drones for Emergency & Rescue Service Use" is the first cross-deployment specialist event that brings knowledge about UAV deployment, the exchange of experience, and real Europe-wide flight scenarios together in one place.
Police, fire fighters and rescue services will be engaging in dialogue both with each other and with service providers and industry, talking about technology, processes and new developments.
Apart from an open specialist forum and an industry exhibition, separate conference areas are planned where information can be exchanged in private.
AERODrones is the key exhibition for unmanned aviation at this year's AERO Friedrichshafen. AERO has been the leading European show for civil aviation for 41 years.
The upcoming special event "Drones for Emergency and Rescue Service Use" will have a dedicated show area in Hall A2 of the exhibition center. Workshops, a forum and industry show will round off the unique conference offering, thus defining a new standard for emergency authorities and rescue organizations.
More information about AERO Friedrichshafen 2022 can be found here.
Source: AERO 2022
Contact
Tamara Blaschke
AERO Friedrichshafen (Fairnamic GmbH)
+49 7541 95995-53
tamara.blaschke@fairnamic.com
www.aero-expo.de